In cooperation HRH Crown Prince Alexander Foundation for Education and Culture, ITAcademy continues the fine tradition of rewarding the best high school graduates. This year, 30 best students of the generation from Serbia and the Republic of Srpska will be awarded free training programs. 
Apply for free education program by July 15
All students of the generation who would like to get a chance to acquire knowledge and skills for some of today's most desirable professions should submit  their applications no later than July 15. In accordance with the students' interests and achievements, the expert commission will select the recipients of free IT training. 
Those who would like to receive free one-year education at ITAcademy should write a letter of motivation, explaining why they would like to attend an ITA program. Those who write the most inspiring and convincing letters will be rewarded. 
The winners will be announced 15 days after the application deadline – on Tuesday, June 15, while the award ceremony will be held in September at the White Palace. 
Reception for graduates at the White Palace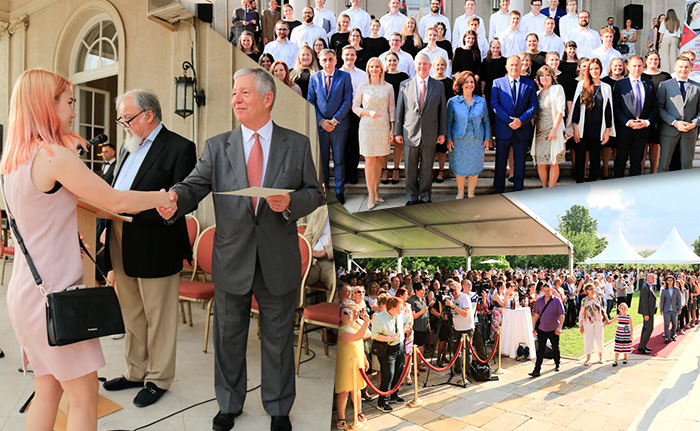 This year, for the 18th time, the White Palace hosted a reception for high school graduates and their parents. His Royal Highness Crown Prince Alexander Karađorđević welcomed over 600 graduates. 
I am pleased with the cooperation with LINK group and I am glad that they are investing into IT education, because it is the future. There is no future without experts in this field. This is why this campaign is very important – said HRH Alexander Karađorđević. 
The students were also addressed by LINK group's marketing director Milica Zorić, Republic of Serbia's minister of education, science and technological development Mladen Šarčević and minister of education and culture of the Republic of Srpska Natalija Trivić. 
This is the third year in a row that LINK group has been awarding free education at ITAcademy, driven by the desire to reward all industrious, young and talented persons. We want to give the best students of the generation something that will certainly be useful in their future career – said Ms. Zorić. 
Education for most sought-after IT professions
The most successful graduates will be able to choose the program they will attend at ITAcademy, which will be realized online, through state-of-the-art Distance Learning platform. 
ITAcademy's students can receive training at six different departments, offering 30 programs in total. Choosing the field that suits them best is up to them – programming, design, IT business, administration, 3D design and AutoCAD and mobile development. 
In addition to providing knowledge and skills for some of today's highest-paying professions, ITAcademy provides a gateway towards some of the most prestigious internationally recognized certificates, such as Oracle, Cisco, Zend PHP and many more. 
All students of the generation who receive free training will also receive various sorts of assistance when it comes to finding work, learn how to make a professional  CV, as well as get connected with companies in need of IT talent.