This year's traditional fall LINK2job employment fair was held on Friday, October 14 at the Hotel Jugoslavija. The organizers from LINK group's Center for Career Development (CCD) welcomed more than 5000 fairgoers. The visitors had the opportunity to connect with a large number of companies providing jobs in various fields.
An open door to many successful companies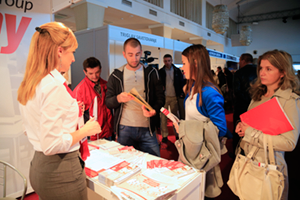 This year's LINK2job fair gathered many companies renowned in Serbia for their success and professional approach, which presented over 200 available positions.
Among the numerous participants were Comtrade, Wiener Städtische, TNation, Trizma, Zepter, Sizmek, Triglav savetovanje, Keprom Group, Grawe, etc.
The fair enabled the visitors to directly contact potential employers and learn how to effectively meet the requirements for specific positions.
The interaction between the companies and the visitors resulted in numerous job negotiations, which is the main goal of the fair organized by the Center for Career Development.
A diverse program for new skills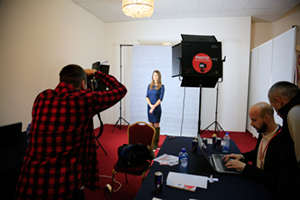 What sets the LINK2job employment fair apart from others is its unique and diverse offer, which is why the number of visitors is growing every year.
This year's 5000 fairgoers could talk to the recruiters from the desired companies, learn all about the available business opportunities and, optionally, leave their CVs for any appealing offers.
The well-known event is renowned for its fantastic opportunities, such as free CV photos provided by the DesignStudio team, as well as free online English courses or ECDL modules. The luckiest visitors were delighted by special prizes including free courses in programming, design, e-business and other fields.
Visitors also had the chance to participate in simulated interviews in the Job Box corner and learn from employment advisors how to present themselves better in job interviews; directly apply for a position in the Laptop Corner, and hear lectures given by experts in various fields including business, IT, education, art and personal development.
Center for Career Development – a gateway to employment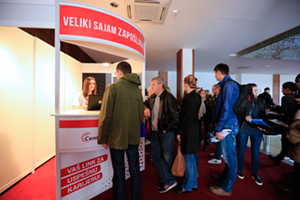 Through its organization and activities, the Center for Career Development aims to contribute to the reduction and eradication of unemployment, one of the country's biggest problems.
By organizing various seminars, workshops, courses and lectures, the Center strives to enhance the skills of all those seeking an ideal job and connect them with the companies looking for competent employees.
The Center's mission has been recognized by a great number of partners, and the fair itself has been supported by the City of Belgrade and the National Employment Service.