LINK group's competition for free training at ITAcademy and BusinessAcademy, awarded in cooperation with B92, attracted several hundred applications for 2015/2016.
The goal of this socially responsible campaign is to help those who are motivated and want to change something in their life, but have no means to do it. They were given an opportunity to acquire practical knowledge in business and IT, and then use that knowledge to compete on the job market and change their life for the better.
A great number of applications expressed a sincere wish for quality IT and business knowledge. They showed that they truly understand the importance of education and its role as a safe route to success. Many of them mentioned that they would like to change their profession and try IT, having realized that it is the future of business.
This way, LINK group would like to sincerely thank everyone and tell them not to give up on their dreams; to keep on working on changing their life in 2016, and achieve success.
This time, the candidate for training at ITAcademy who stood out was Marko Kojić, who descibed the strength of his wish for succes in information technology in his letter.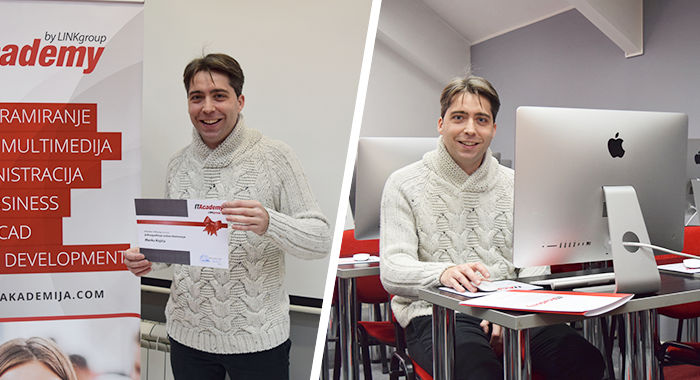 Marko stated that he had spent many nights working on his Toshiba, on which he also typed his letter of motivation, trying hard to find his place in the IT industry. He does not come from the IT field and he had to work at various jobs to make a living, but not for a moment did he give up on his dream, trying to learn as much as he could and finally start making a living and making money from
a job that he loves. He sees ITAcademy as the place that will make it possible for him.
Marko would like his example to inspire everyone to turn their life around professionally and strive for everything that can help them build their dreams, and through them - the world around them.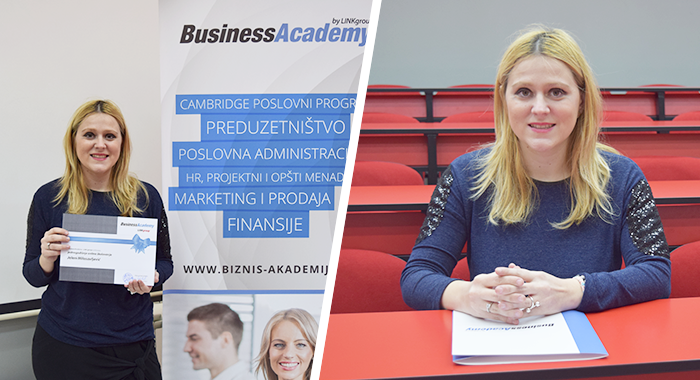 The highest level of motivation for education in the business realm was shown by Jelena Milosavljević. As a single mother, she would like to be a real role model for her little daughter and show her that hard work and persistence can lead to great results. She experienced a lot of hardship, but she never stopped fighting.
Thanks to BusinessAcademy, Jelena can now receive further professional education and provide a better life for her family, rather than mere subsistence.
Other candidates who stood out, besides Marko and Jelena, expressed great will for learning and left quite an impression with their letters of motivation. They were awarded individual ITAcademy and BusinessAcademy courses – Čarni Đerić and Aleksandar Kovačević received a course in Photoshop; Tatjana Milošević, Bojan Tomić and Savo Knežević – a Core PHP Programming course, while Aleksandar Stanković received an ECDL course. Several English courses were also awarded.